BLAZERS TOURNEY TO HONOR SHANNON PLANTY

Brushton-Moira Panthers' player Shannon Planty (right) Blazers Tournament in 2012. The 2013-14 and subsequent Blazers Youth Tournaments were named in Shannon's memory.


Blazers Tournament T-Shirts honor Shannon Planty.

2017 BLAZERS TOURNAMENT PHOTOS
Available in NEW Direct Purchase Online!
North Country SportsNet (www.northcountrysports.net) will again take photos of games throughout the 2017 tournaments. Again this year, photos are displayed in a Photo Center at N.C. Blazers Galleries. Photos are also displayed there for the 2007 through 2016 tournaments. Purchase of these high-quality photos will be quickly processed and shipped directly from the photo processing company. Photos usually arrive at your home within 7-10 business days! And we have kept all of the original photos from 2004 through 2006. Just ask about availability by contacting NCSN by EMail.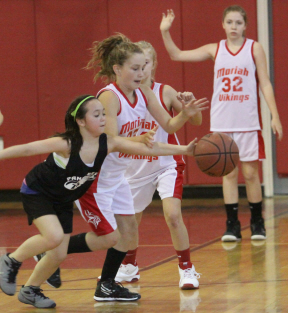 BLAZERS HOLD YOUTH, A.A.U. TOURNEYS IN 2017
North Country Blazers Basketball Association will hold their 16th annual tournament in 2017, at Brushton-Moira Central School. The Shannon Planty Youth Tournament for grades 6-9 will be held March 24th to 26th, 2017. Registration fee is $225. The Brooke Lyon Remembrance AAU-style tournament for grades 8-12 will be held April 28th, 29th and 30th, 2017. The registration fee is $325. In the past 15 years, the Blazers have played host to over 150 teams. Over the past ten years or more, organizers have had to stop taking registrations about four weeks prior to the tournament after hitting the capacity. We are assured to see more buzzer-beating action like last year's championship games!

With some unique and popular features like online scoring and tournament tracking, this tournament has set the bar for many others to follow. Once again, we will feature only certified officials for the April tournament and the best concession stand around.

We hope that your team will kick their AAU season off with us. Please register early so that you are assured a spot! You can use our convenient Online Registration Form.

BOB MILLER STILL SHOWS SUPPORT AT TOURNEYS

Mr. Bob Miller of Massena has been coming to North Country Blazers tournaments since they began in 2001. He was back to support the Massena teams again in the 2013 tournaments.

NORTH COUNTRY BLAZER 2017 SUGGESTION BOX
SUGGESTIONS?
Our 2016 Tournaments were another success! However, there might be good ideas for future changes and improvements. We invite your suggestions to make the tournament even better. E-Mail fairbri@wildblue.net

Our website is updated during tournaments after every game by Bob LaRue, Cody Jenne and staff at www.northcountrysports.net.

Past tournament results, pictures and recaps can also be found on the Blazers website. We hope that fans from the area will continue to support this great event. For more information and future updates, you can visit the Blazers website.

For further information, contact Brian by EMail: fairbri@wildblue.net